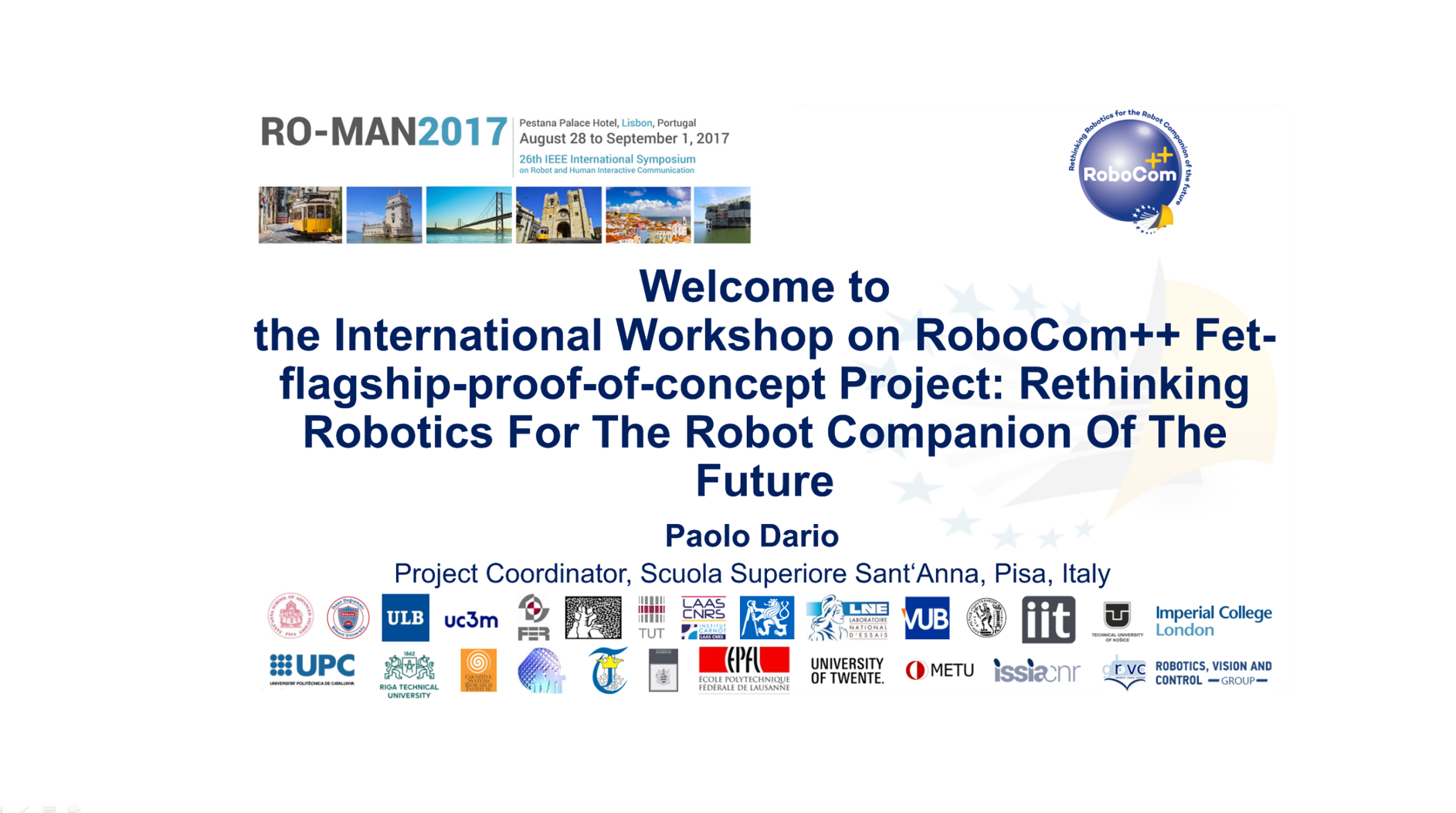 Posted by RoboCom++ Team
On September 10, 2017
0 Comments
August 28, 2017 – Lisbon, Portugal
Europe is facing major problems and a number of challenges threatening the future quality of life and prosperity of EU citizens. Robots can be a solution to some of these challenges. Robots based on the current technological and scientific paradigm, although successful, encounter serious problems to perform daily life activities and complex tasks in real-world poorly structured environments. In fact, in the mechatronic paradigm adopted in current robots system complexity increases and robustness decreases more than linearly when complexity in the desired behaviours and application environments increases.
The main objectives of this workshop is to offer new insights on the next generations of Robot Companions for citizens, capable of overcoming the inherent limitations of current robots. It aims at identifying new design paradigms, grounded on Nature principles in order to develop the Robots of the future which will interact and co-operate with humans in disruptively new ways.
Robotics
Soft Robotics
Bioinspired Robotics
Morphological Computation
Cognitive Robotics
Intelligent Materials
Artificial Muscles
Flexible electronics
Collaborative Robots
Robot Companions and Social Robots
Limits of current approaches
Beyond mechatronics paradigms
Life science vs Robotics vs cognition
Deep Learning applications for Robotics
Neuromorphic chips for Robot brains
Reproducible Research
Robotics as a science
Ethical, Legal, Economic and Social Aspects
We welcome prospective participants to submit abstracts (up to 300 words) or extended abstracts (up to 2 pages). We especially encourage abstracts on new ideas or research that the authors plan to conduct; feedback can be given during coffee breaks or during discussions.
Abstract format should be according to the RO-MAN 2017 paper guidelines (IEEE format).
Submissions should be in PDF format via email.
Submission System
Important Dates
Submission deadline: July 10, 2017
Acceptance notification: July 15, 2017
Send PDF via E-mail
Paolo Dario
The BioRobotics Institute, Scuola Superiore Sant'Anna (SSSA), Italy
+39 050 883401; +39 348 8863117
paolo.dario@sssup.it
Dario Floreano
Swiss Federal Institute of Technology (EPFL), Switzerland
dario.floreano@epfl.ch
Philippe Souères
Centre National de la Recherche Scientifique/LAAS (CNRS-LAAS), France
soueres@laas.fr
Barbara Mazzolai
Istituto Italia di Tecnologia (IIT), Italy
barbara.mazzolai@iit.it
Cecilia Laschi
The BioRobotics Institute, Scuola Superiore Sant'Anna (SSSA), Italy
cecilia.laschi@santannapisa.it
 
Fabio Bonsignorio
The BioRobotics Institute, Scuola Superiore Sant'Anna (SSSA), Italy
fabio.bonsignorio@santannapisa.it
 
Stefano Mazzoleni
The BioRobotics Institute, Scuola Superiore Sant'Anna (SSSA), Italy
stefano.mazzoleni@santannapisa.it
 
Clementina Cruceli
The BioRobotics Institute, Scuola Superiore Sant'Anna (SSSA), Italy
clementina.cruceli@santannapisa.it